Würzburg Residence
White Hall
"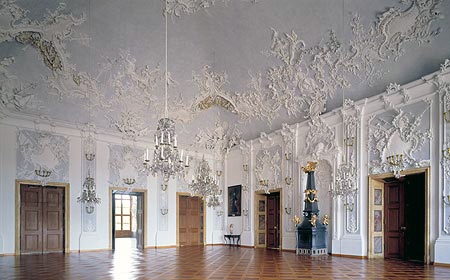 The colourless decoration of the White Hall, completed in 1744/45, is designed to contrast with the radiant colours of the staircase fresco and the glittering gold, agate and purple colour scheme of the Imperial Hall.
The stucco decorations of Antonio Bossi stand out against a pale grey background. Only a few details are highlighted with touches of delicate colour. The shadows of the reliefs alone create many shades of white and grey. In only a few months Antonio Bossi covered the immense area of the high vault with highly imaginative decoration. He succeeded in enlarging the rocaille (= C-shaped decorative element) which was actually developed for the decoration of small and intimate rooms, and reproducing it on an almost monumental scale, without sacrificing any of its liveliness and lightness.
The neoclassical stucco-work in the niche and the sculpture decorating the stove, an eagle and four putti representing the seasons, are the work of Materno Bossi. The original purpose of the hall as a salle de garde is indicated by the emblems of war and symbols of the prince-bishop's authority in the ceiling stucco-work and the reliefs of the war divinities Mars and Bellona.
---