Würzburg Court Garden
The patron and the artists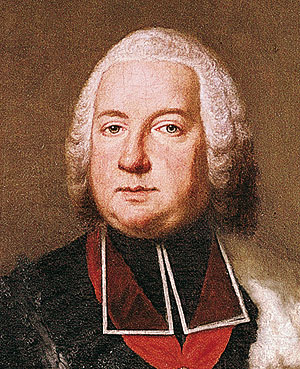 The patron
Adam Friedrich von Seinsheim (1708-1779) came from an old and influential aristocratic family. As a young man he studied philosophy, theology and law in Salzburg, Rome and Leiden. He was accepted by the cathedral chapters of Bamberg and Würzburg at the age of only 10.
In 1755 Adam Friedrich was elected bishop by the Würzburg cathedral chapter, and in 1757 was also elected bishop by the Bamberg cathedral chapter. He appointed the best garden designers to lay out or redesign almost all the gardens of his main and subsidiary residences, not only the Würzburg Court Garden but also Seehof Palace Park (near Bamberg) and the Court Garden of Veitshöchheim.
The garden designer
Johann Prokop Mayer (1735-1804), who was born in Bohemia, completed a three-year gardener's apprenticeship in Prague. From 1755 Mayer worked as a journeyman in Germany, Austria, France, Holland and England. In 1770 he was appointed court gardener in Würzburg.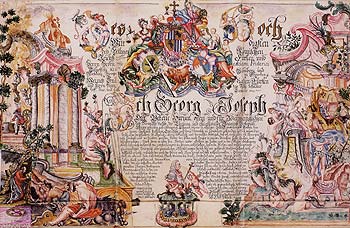 In 1760/61 Johann Prokop Mayer had already worked
as a journeyman in the Veitshöchheim Court Garden.
When Mayer moved on after 15 months in 1761, the
then court gardener, Georg Joseph Oth, produced
this reference for him.
© Photo: Mainfränkisches Museum Würzburg
The creation of the Court Garden progressed apace under his energetic direction, but he was by no means able to put all his plans into practice. Mayer remained in Würzburg as court gardener until his death.
Between 1776 and 1801 he published the "Pomona Franconica", a three-volume handbook of fruit varieties. In it he described all the types of fruit cultivated in the Court Garden and his many years of experience with the cultivation of fruit trees. This work has full-page illustrations of artistically clipped fruit trees and hand-coloured copper plates of over 500 ripe fruits.
The court sculptor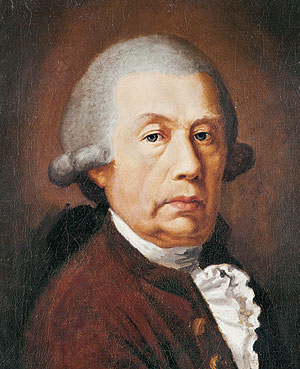 © Photo: Martin von Wagner Museum
der Universität Würzburg
The numerous sculptures and vases in the Würzburg Court Garden were made by the Franconian sculptor Johann Peter Wagner (1730-1809) and his workshop. Wagner was apprenticed with his father and after studying in Vienna, Salzburg, Munich and Mannheim settled in Würzburg in 1756.
Here he worked first under the court sculptor Johann Wolfgang van der Auwera (1708-1756). Three years after Auwera's death, Wagner took over the workshop, but was not appointed Würzburg court sculptor until 1771.
In the 1760s and 1770s his workshop was producing sculptures for the whole of Lower Franconia. From 1770 on he made all the sculptures for the Würzburg Court Garden.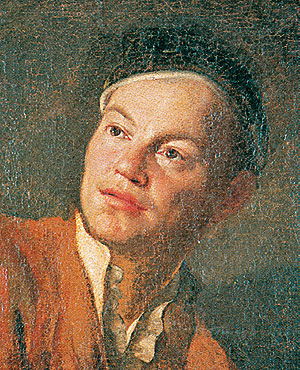 © Photo: Mainfränkisches Museum Würzburg
The court locksmiths and ornamental metal-workers
Johann Georg Oegg (1703-1782), who was born in Tyrol, became a smith like his father and was apprenticed to his uncle, who was a master blacksmith in Linz. After Oegg had demonstrated his skills in Vienna, he was appointed to Würzburg in 1733. Among his works for the Residence were the famous wrought-iron gates for the cour d'honneur, which were however demolished in 1821.
He produced the ornamental railings on either side of the gates between the Court Chapel and the Ambassadorial Building between 1748 and 1750 and the whole construction in its present form was completed by his son Johann Anton Oegg (1745-1800). The other wrought-iron gates of the Court Garden were also made by the Oegg father and son.