Information for visitors
Information / Coronavirus
Due to the current regulation on the protection against COVID-19, all sights of the Bavarian Palace Department are closed at the moment. The regulation currently applies until 7 March 2021.
Current information / Entrances to the Court Garden
Please use the gates at the Hofkirche and Rennweg for your visit to the Court Garden. Currently, construction work is underway to renovate the paths in the English part of the Würzburg Cout Garden. The garden gates on Ottostraße and on the Balthasar-Neumann-Promenade must therefore remain closed until further notice. The already completed areas of the English part will remain accessible to visitors.
We ask for your understanding.
Opening hours, admission charges and guided tours

Opening hours
April-October: daily 9 am-6 pm (last entry: 5.15 pm)
November-March: daily 10 am-4.30 pm (last entry: 4 pm)
Public holidays: The Residence is closed only on 1 January, Shrove Tuesday and 24, 25 and 31 December.
The Court Garden is open daily until dusk (8 pm at the latest).
Admission charges 2021
9 euros regular · 8 euros reduced
The admission to the Court Church and the Court Garden is free.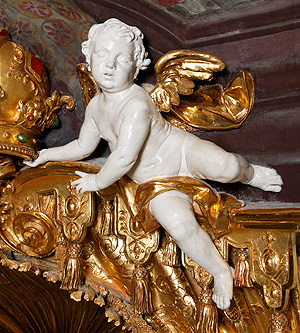 Free and reduced entrance
Children under 18 are admitted free of charge.
Students over 18 from general schools, vocational schools, special schools and schools for sick children in accordance with Article 6 (2) of the Bavarian Education Law (BayEUG) are also admitted free on production of a student identity card.
Students from "second chance" schools (evening schools leading to intermediate or higher secondary school qualifications, colleges) in accordance with Article 6 (2) No. 1e of the Bavarian Education Law and language school students are not admitted free of charge.
Further details about reduced admission charges, free entrance etc you will find in our general information.
With one of our annual season tickets or 14-days-tickets you can visit over forty of the most beautiful sights in Bavaria!
---
Guided tours
Unfortunately, guided tours are currently not possible.