Würzburg Residence
Court Church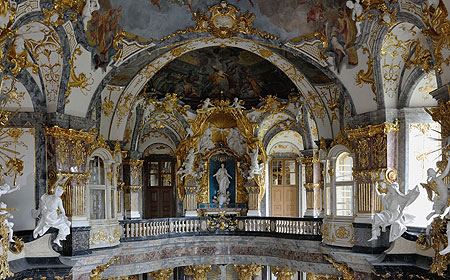 Although small, the Court Church consecrated in 1743 is one of the most perfect 18th-century religious buildings in Germany with its sophisticated room structure and highly artistic decoration.
Architect Balthasar Neumann succeeded without altering the four-story palace façade in creating a room in the southwest corner of the Residence which comes as a complete surprise with its curving walls and three oval dome vaults. Some of the magnificent decoration, completed from 1735 to 1743, was designed by his rival Lucas von Hildebrandt.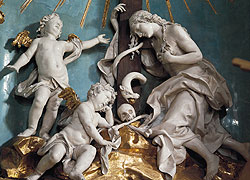 Mary Magdalene and two putti at the
foot of the cross, stucco sculptures
by Antonio Bossi, 1740/41
Most of the decorations were produced by Würzburg court artists: Rudolph Byss and his pupils painted the ceiling frescos (recreated after the war), Antonio Bossi produced the stucco decoration and stucco figures and Johann Wolfgang van der Auwera the marble sculptures of St Kilian and Burkard to the side of the high altar.
The two side altar paintings are further highlights of the outstanding decoration: they show "The fall of the angels" and "The Assumption" and are works by Giovanni Battista Tiepolo dating from 1752.