General information for visitors
Information / Coronavirus
For a visit to our sights, the 3G rule applies if the 7-day incidence determined by the competent district administration authority is above 35, i.e. all visitors must either be
vaccinated against Covid-19
(with a vaccine authorised in the EU),

recovered from Covid-19 or

tested negative.
Proof of a negative PCR test (maximum 48 hours old) or rapid antigen tests / self-tests under supervision (maximum 24 hours old) must be BROUGHT ALONG.
No tests will be offered or proof issued on site!
Children up to their sixth birthday, pupils who are subject to regular testing as part of their school attendance and children not yet enrolled in school are exempt from compulsory testing.
You will need to bring appropriate proof (written or electronic).
Here you will find further information and FAQ.
---
The Würzburg Residence can currently be visited without a guided tour.
Unfortunately, the Tuscany exhibition and the Court Church are unfortunately not accessible until further notice.

Information for people with a handicap
Here you will find some information to prepare your visit to the Würzburg Residence if your mobility is restricted or if you are visually or hearing impaired.
Registration for groups
Due to Covid19 there are no guided tours for groups possible.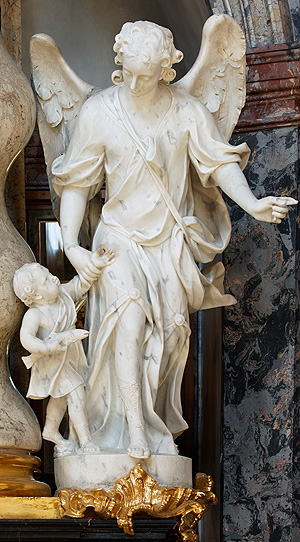 Plan of the Würzburg Court Garden
Here you will find a plan of the Court Garden.
Photographs and videos
Photography and video recording is unfortunately not permitted in the Würzburg Residence and the Court Chapel. Photos and videos may be taken for personal use only (not for publication of any kind) on the square in front of the Residence and in the Court Garden. Special permission is required – and there may also be a charge – for all photography and films taken for further use, as well as for the flying of drones /multicopters.
Bulky objects
No large bags (from 35 x 30 x 12 cm), rucksacks or bulky objects may be taken into the Residence. These may be left in the free lockers (deposit 1 euro).
Free buggy hire
For conservational reasons you may not take your child's pram or buggy into the exhibition rooms of the Residence. Free buggies are available for the duration of your visit.
Dogs
No dogs or other animals may be taken into the Residence. Unfortunately, we cannot offer supervision for animals brought along. Please keep dogs on an lead in the Court Garden.