Würzburg Court Garden
Topiary fruit trees – revival of an old horticultural art
It was not until the beginning of the 19th century that the Court Garden was extended to include the lower-lying area of the kitchen garden. This area had previously belonged to the neighbouring St Afra Monastery. Until 1969 the kitchen garden still had its original grid of paths and vegetable beds, but these were then replaced by a simple lawn.
Between 1998 and 2005, however, the garden was reconstructed in its original form. Since then the gardeners have once again been cultivating the topiary fruit trees which dominated the whole garden under the court gardener Johann Prokop Mayer.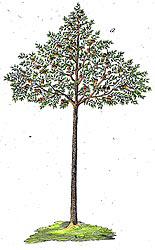 Topiary fruit tree with
a long trunk and a conical crown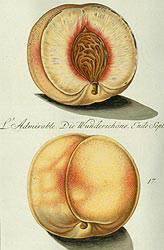 Peach variety "The Beautiful"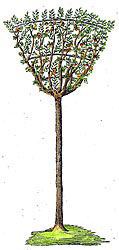 Topiary fruit tree with a long trunk and a bowl-shaped crown that was hollow in the middle
Towards the end of the 18th century, there were over two hundred artistically clipped fruit trees in the gardens of the Residence. Several of the espalier fruit trees on the terrace walls of the East Garden continued to be replaced well into the first half of the 20th century, but were then however abandoned. As well reviving the tradition of clipped fruit trees, the Palace Department also eventually intends to show the cultivation of vegetables in the kitchen garden.
| top |